The makers of Pot-Easel are avid collectors of Studio Pottery and have extensive experience in ceramics education.
Made from solid oak, Pot-Easel is a unique traditional display stand for ceramics and studio pottery. Inspired by Japanese designs, Pot-Easel has been awarded a design registration for its versatility, unique features and safe balance. Most importantly Pot- Easel compliments the display item without interference with the design, shape and colour.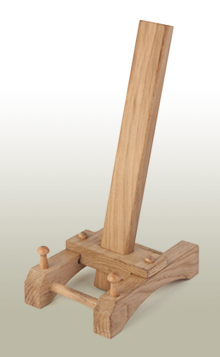 Precision engineered from oak the natural graining and colouration gives each Pot-Easel a unique identity. The sliding bridge allows for 3 size settings and the tall upright gives excellent support with a low centre of gravity.
3 sizes are now available in 2 colour variations of black [burnt oak] and natural:
• Small [shelf] Pot-Easel for display
cabinets and shelving
• Standard Pot-Easel for a wide range
of bowls and platters
• Large Pot- Easel for deep bowls and
very wide chargers
NEW EXTRA LARGE SIZE NOW AVAILABLE-PLEASE ASK FOR DETAILS.